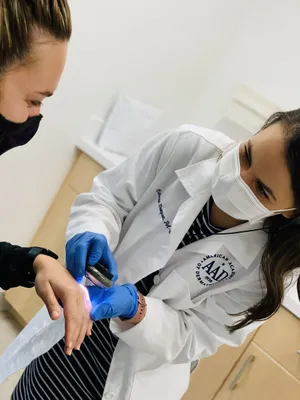 Our skilled providers at Dermatology Associates of Ithaca treat a wide array of skin conditions. We seek to mitigate the impact that skin disease can have by offering the following general dermatology services to our patients:
Skin Cancer Screening
Regular skin examinations are an important step to achieving optimal skin health, particularly in patients with a history of significant sun exposure. A thorough skin examination will be performed by our expert providers and if any suspicious skin lesions are found, a skin biopsy will be performed. We will offer our recommendations on the best way to protect your skin from further sun damage as well as how to detect melanoma and skin cancers as early as possible. Read more .
Acne Treatments
Acne can significantly impact patient's lives including their social and professional lives. At Dermatology Associates of Ithaca, we work on finding the acne treatment that is most effective and appropriate for each patient. Read More .
Psoriasis and Eczema
Psoriasis and eczema (atopic dermatitis) are common rashes that can adversely affect patients' lives. At Dermatology Associates of Ithaca, we offer a wide array of treatments for these conditions including topical treatments, oral treatments, light therapy, and for severe cases of psoriasis, injectable and oral treatments. Read More.
Contact Dermatitis (Patch Testing)
Although most patients have eczema as a result of an overactive immune system that can be inherited, some patients have dermatitis due to an allergy to a substance that contacts their skin. Finding out which allergen is causing the dermatitis is key to curing or at least managing the disease. At Dermatology Associates of Ithaca we offer a panel to test for contact allergies in the skin. If we can uncover the substance precipitating our patient's allergy, we can help them avoid it in the future and in many cases "cure" their dermatitis.
Narrowband (NBUVB) Phototherapy
For patients with psoriasis, eczema (atopic dermatitis), itch, and vitiligo which have not responded to topical therapies, broadband ultraviolet therapy offers a powerful tool to help improve these conditions. Phototherapy is best suited for patients who are able to come into clinic at least two to three times per week for short light exposure sessions with our highly trained staff and supervised by our expert providers. Read More.
Other Treatments
Your providers at Dermatology Associates of Ithaca have been trained to recognize and treat thousands of skin conditions, from common diseases such as acne and warts to skin cancer, applying the latest evidence and knowledge to your unique skin needs.
---
Do you have a question for one of our expert providers at Dermatology Associates of Ithaca?
Call (607) 257-1107 to schedule an appointment.
Helpful Links
Acne Treatments : Find out which acne treatments are most commonly employed at Dermatology Associates of Ithaca.
Psoriasis & Eczema Treatments : Learn more about what treatments are available for these conditions.
Narrowband UVB Phototherapy : See if this treatment may be appropriate for your psoriasis, eczema, itch, or vitiligo
Skin Cancer Prevention : Learn more about skin cancer prevention and the different types of skin cancers.